One of the things people say when they claim to have trouble journaling, is "I don't know what to write about," or "My life is boring."
Facebook and Twitter heartily disagree with you.
What do you post to Facebook and Twitter? If you post anything, you can use it as journaling on a scrapbook page.
A quote you love? A recipe you want to try? A ridiculous news story? Those are all things you can use to illustrate your interests on your scrapbook pages.
And your tweets and status updates? Those are journaling goldmines!
They're pretty easy to find after the fact, too.
For Facebook, go to your wall, and then click Activity Log. That will bring up a much easier to read list of your activity on Facebook, without all the clutter you normally see on your wall. You can even narrow the search down to a particular year or month by clicking the one you want in the list on the upper right hand side of the page.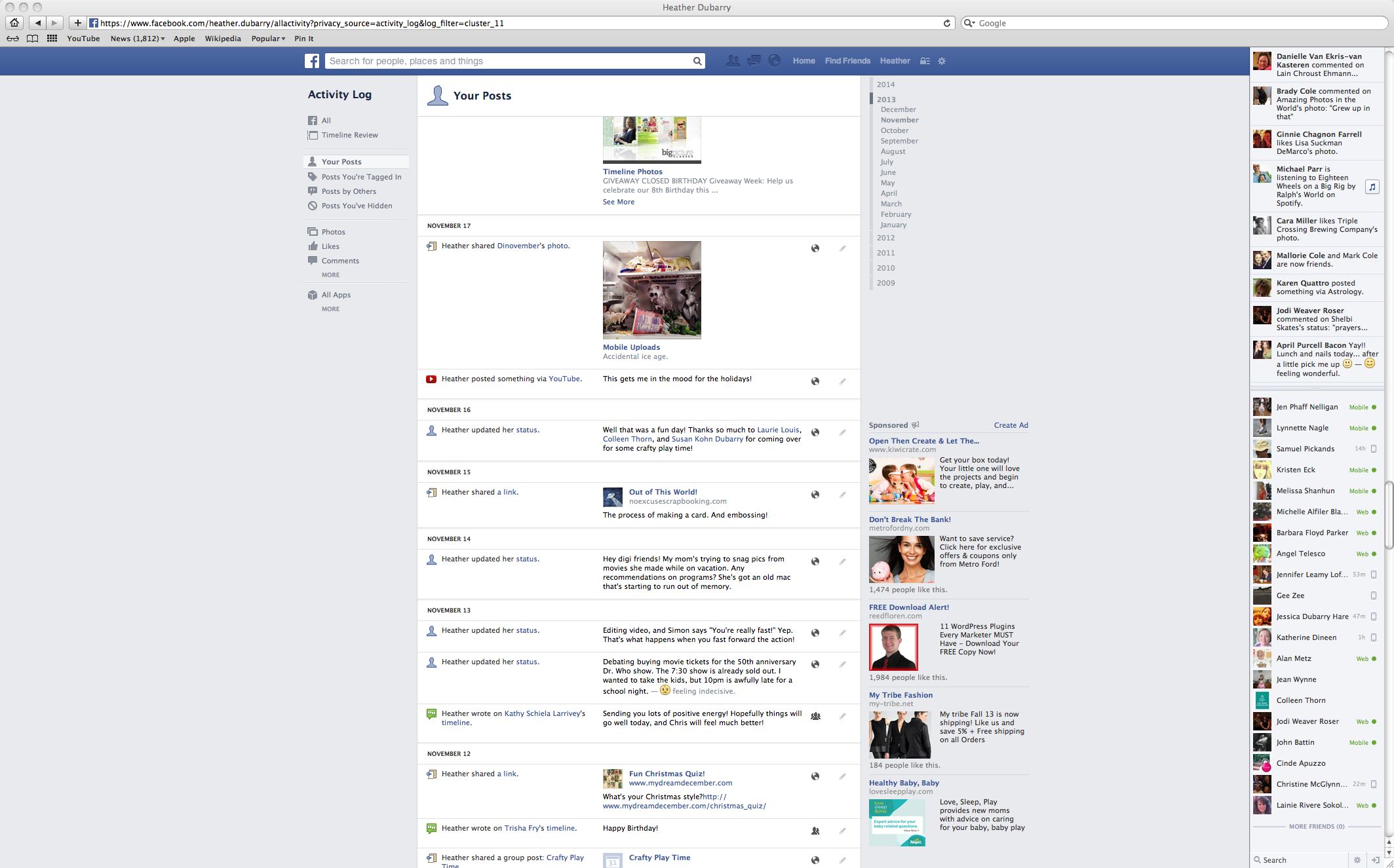 On Twitter, just click your name so your personal twitter feed comes up. To narrow down what you see in the future, star/favorite the posts that you really like. Then you'll be able to pull up just those particular tweets at a later date, when you go looking for journaling material again. You can even request an archive of all your old tweets that you can download and search. (To do that, just click on the gear on the Twitter menu bar and choose settings. The last option on the settings screen is to request your Twitter archive.)
Here's a challenge for you:
Go through some of your old social media posts, and find something that makes you laugh or smile, and document it. You may think that you'll always be able to find old info on the internet, but you and I have been through enough technological changes to realize that EVERYTHING changes. What's new and amazing quickly becomes old and obsolete. Document your stories in multiple ways, so that the things that matter to you have a greater chance of surviving, and being remembered.
If you make a page based on this challenge, feel free to share a link to it in the comments below, or over on Flickr in the No Excuse Scrapbooking group. I'd love to see what inspires you!